Cover Reveal: The Immortal Who Loved Me by Lynsay Sands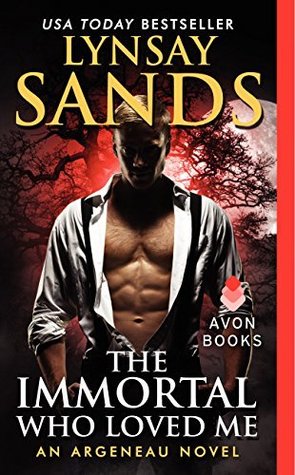 I love randomly browsing the net which, while hell on my writing, lets me discover new gems like the cover for Lynsay Sands' upcoming Argeneau novel, with a tentative release date of February 2015, The Immortal Who Loved Me:
A few hours ago, Sherry Carne would have sworn that vampires didn't exist. That's before rogue immortals rampage through her store, leaving bloody chaos (literally) in their wake. The kicker comes when Sherry learns that one of the vamps on the bad guys' trail may be her life mate. Her head says it's impossible. The rest of her takes one look at Basileios Argeneau and has much more interesting ideas.
Whatever Basil expected in a life mate, funny, outspoken Sherry isn't it. But mind-blowing chemistry and instinct don't lie. They tell him something else, too—that Sherry's connection to the immortal world goes deeper than she knows. And that she's in the kind of danger only Basil can save her from—if she'll just trust him, now and forever…
I think it's a fun cover with some serious mancandy!
Do you love it, hate it or couldn't care less?
–Rika Ashton
(aka Cover Spoiler)
This entry was posted on August 13, 2014 by Rika Ashton. It was filed under Favourite Authors and was tagged with basil, blurb, cover, Lynsay Sands, paranormal, romance, sherry, the immortal who loved me, upcoming novels.