Throwback Thursday: LONDON'S PERFECT SCOUNDREL by Suzanne Enoch
This week's Throwback Thursday pick is a novel that I haven't read in a very long time, but one that started my lifelong love affair with Suzanne Enoch – really, what else could it be but London's Perfect Scoundrel?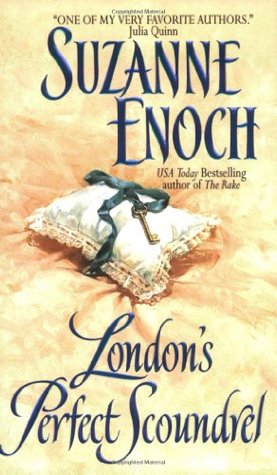 A determined young lady vows to give one of London's infamous rakes his comeuppance — but when the rogue turns the tables, who truly learns a lesson in love?
The ton gossips call him "Saint" — but the Marquis of St. Aubyn has well earned his reputation as London's perfect scoundrel.
Evelyn Ruddick knows she should avoid him at all costs–but the strikingly beautiful lady wants to aid the children of the Heart of Hope Orphanage, and he heads the board of trustees. Evie is determined to teach the charming, arrogant man a lesson in compassion, but it won't be so easy–especially since his touch is setting her desire aflame, making Evie yearn to submit to his passionate instruction…
The idea of joining in her "project" is unthinkable, but this enchantress refuses to give up! So what else is there for a self-respecting rake to do but seduce the lady? Yet soon it is he who is being seduced by Evie's tender heart and fiery blushes. Could the temptation of long, passionate nights in her arms bring about the impossible? Could the disreputable Saint at long last be reformed?
If you haven't read anything by Ms. Enoch yet, then this is a good book to start with. The only thing better than a reformed rake…is watching one get his comeuppance! 😉
–Rika Ashton
(aka The Very Unreformed Lady Rake)
This entry was posted on August 28, 2014 by Rika Ashton. It was filed under Favourite Authors, Throwback Thursday and was tagged with evie, historical romance, london's perfect scoundrel, rakes, saint, suzanne enoch, throwback thursday.
2 responses