Throwback Thursday: DEVIL IN WINTER by Lisa Kleypas
This week I thought I'd shine the spotlight on my favourite Wallflower book by Lisa Kleypas, Devil in Winter, as a part of Throwback Thursday.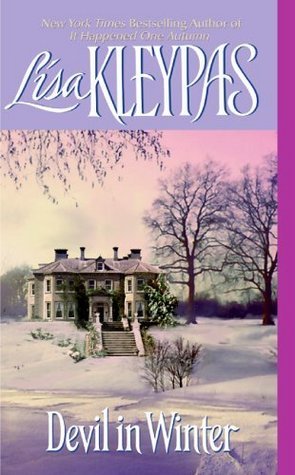 Four young ladies enter London society and band together to each find a husband. Has the third "Wallflower" now met her match?
A Devil's Bargain
Easily the shyest Wallflower, Evangeline Jenner stands to become the wealthiest, once her inheritance comes due. Because she must first escape the clutches of her unscrupulous relatives, Evie has approached the rake Viscount St. Vincent with a most outrageous proposition: marriage!
Sebastian's reputation is so dangerous that thirty seconds alone with him will ruin any maiden's good name. Still, this bewitching chit appeared,unchaperoned, on his doorstep to offer her hand. Certainly an aristocrat with a fine eye for beauty could do far worse.
But Evie's proposal comes with a condition: no lovemaking after their wedding night. She will never become just another of the dashing libertine's callously discarded broken hearts – which means Sebastian will simply have to work harder at his seductions … or perhaps surrender his own heart for the very first time in the name of true love.
Evie and Sebastian's novel is one of my all-time favourite love stories. I get this funny, warm feeling in the pit of my stomach every time I read it. I never expected Sebastian to be such a sweetheart, especially since he was a pseudo-villain in one of the earlier novels in the series, It Happened One Autumn. But I adored Evie from the minute she was introduced. She's funny and courageous. I love how she finds the strength to stand up for herself, but at the same time not being afraid to ask for help.
The romance in the book is swoon-worthy, and the dialogue is wicked-sexy between Evie and Sebastian.
"It's impossible," he snapped.
"Why?"
"Because I'm Sebastian, Lord St. Vincent. I can't be celibate. Everyone knows that."
This book has been in my top-ten since the moment I first opened it. Words can't express the sheer amazing-ness of this novel.
Sebastian is definitely one of my favourite alpha heroes of historical romance, who are some of yours?
–Rika Ashton
(aka Alpha Stalker)
This entry was posted on September 18, 2014 by Rika Ashton. It was filed under Book Reviews, Favourite Authors and was tagged with devil in winter, evie, historical romance, it happened one autumn, lisa kleypas, sebastian, wallflower.
8 responses