It's Two for One Time…As in Two Covers in One Post and a Little Extra
What do the names Kenyon and Jones have in common? Fantastic covers, that's what!
I recently became insanely addicted to the Charley Davidson mystery series – seriously, how awesome is that name? – by Darynda Jones. The woman is a prolific writer, and good one, and the wait between novels has been short enough that I can devour read after read without feeling guilty. If you haven't started the series, or are debating the wisdom of doing so like I did not so long ago, you can read a free short story called For I Have Sinned on Heroes and Heartbreakers. (Be warned, you do have to be registered member and logged in to read. Registration is free and easy, however.)
The next book of the Charley Davidson series, Seventh Grave and No Body, releases this year on October 21st but we already have the title, blurb and cover for book eight – Eighth Grave After Dark.
 With twelve hellhounds after her, pregnant Charley Davidson takes refuge at the only place she thinks they can't get to her: the grounds of an abandoned convent. But after months of being cooped up there,  Charley is ready to pop. Both metaphorically and literally since she is now roughly the size of a beached whale. Fortunately, a new case has captured her attention, one that involves a murder on the very grounds the team has taken shelter upon. A decades-old murder of the newly-vowed nun she keeps seeing in the shadows is almost enough to pull her out of her doldrums.
Charley's been forbidden to step foot off the sacred grounds. While the angry hellhounds can't traverse the consecrated soil, they can lurk just beyond its borders. They have the entire team on edge, especially Reyes. And if Charley didn't know better, she would swear Reyes is getting sick. He grows hotter with every moment that passes, his heat scorching across her skin every time he's near, but naturally he swears he's fine.
While the team searches for clues on the Twelve, Charley just wants answers and is powerless to get them. But the mass of friends they've accrued helps. They convince her even more that everyone in her recent life has somehow been drawn to her, as though they were a part of a bigger picture all along. But the good feelings don't last for long because Charley is about to get the surprise of her crazy, mixed-up, supernatural life…
Eighth Grave After Dark releases May 19th, 2015.
But we promised you two for the price of one, so here's cover reveal number two!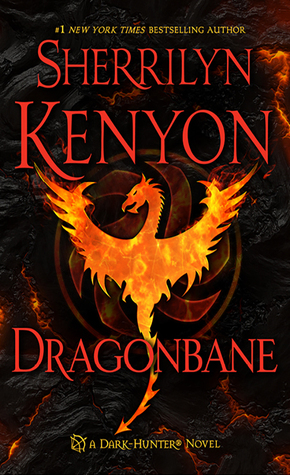 Sherrilyn Kenyon has been her usual busy self, and we have a cover, title and blurb for the next book of the Dark-Hunter (or Were-Hunter if one wants to get technical) fantasy series, Dragonbane:
Out of all the mysterious boarders who call Sanctuary home, no one is more antisocial or withdrawn than Maxis Drago. But then, it's hard to blend in with the modern world when you have a fifty foot wingspan.
Centuries ago, he was cursed by an enemy who swore to see him fall. An enemy who took everything from him and left him forever secluded.
But Fate is a bitch, with a wicked sense of humor. And when she throws old enemies together and threatens the wife he thought had died centuries ago, he comes back with a vengeance. Modern day New Orleans has become a battleground for the oldest of evils. And two dragons will hold the line, or go down in flames.
Max's book hit bookstores – though not literally – on August 4th, 2015.
So there you have it…two amazing covers for the price of one. How's that for whetting our appetite? Sadly, we'll have to wait for next year for the full enchilada.
-Rik…
CHAOS: Whoa, whoa, whoa…hang on! Aren't you going to tell them about the giveaway?
ME: Oh, right…okay, fellow readers, here's the deal. We will be doing a giveaway very, very soon  – our first ever actually – and you'll have a chance to win a copy by one of the amazing authors featured in this post. But you'll have to wait to see which one. Stay tuned on the blog and on Twitter for more news.
Okay, so that was actually three for the cost of reading one post. Yes, we really can't count here on Rika's Musings, but aren't you glad we failed elementary school Math? 😉
–Rika Ashton
(aka "Signing off for real this time.")
This entry was posted on October 15, 2014 by Rika Ashton. It was filed under Favourite Authors and was tagged with blurb reveal, charley davidson, darynda jones, dragonbane, eighth grave after dark, fantasy, for I have sinned, giveaway, heroes and heartbreakers, Max, mystery, news, paranornal romance, seventh grade and no body, Sherrilyn Kenyon.