Throwback Thursday: LORD OF SCOUNDRELS by Loretta Chase
Confession time: I read this novel way back when and I have no memory of it.
Tough-minded Jessica Trent's sole intention is to free her nitwit brother from the destructive influence of Sebastian Ballister, the notorious Marquess of Dain. She never expects to desire the arrogant, amoral cad. And when Dain's reciprocal passion places them in a scandalously compromising, and public, position, Jessica is left with no choice but to seek satisfaction …
Damn the minx for tempting him, kissing him … and then forcing him to salvage her reputation! Lord Dain can't wait to put the infuriating bluestocking in her place – and in some amorous position, And if that means marriage, so be it! – though Sebastian is less than certain he can continue to remain aloof … and steel his heart to the sensuous, headstrong lady's considerable charms.
Loretta Chase's Lord of Scoundrels is often featured on "Best of Historical Romance" (or a variation of) lists and I know I read this novel because the names Dain and Jessica are so familiar. I think I can even recall some scenes from the book, but I can't be sure.
But what I do want to do is read this novel again. I found this quote from the novel on Goodreads and it made me laugh out loud.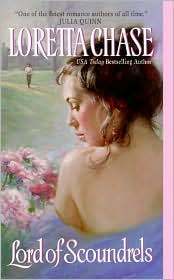 "Jessica, you are a pain in the arse, do you know that? If I were not so immensely fond of you, I should throw you out the window."
She wrapped her arms about his waist and laid her head against his chest. "Not merely 'fond,' but 'immensely fond.' Oh Dain, I do believe I shall swoon."
"Not now," he said crossly. "I haven't time to pick you up."
Don't know how could have forgotten such hilarious banter – I guess I must have been in some fugue state…or possessed, which is always a possibility in my life.
Have you ever read a book that you can't remember reading? (Yes, this question is meant to be confusing.)
–Rika Ashton
(aka The Demon Possessed)
P.S: Can you guess which is the older cover?
This entry was posted on November 13, 2014 by Rika Ashton. It was filed under Favourite Authors, Throwback Thursday and was tagged with dain, historical romance, jessica, lord of scoundrels, loretta chase, throwback thursday.
2 responses