Disclaimer: I received a complimentary copy of this anthology in exchange for an honest review.
What Happens Under the Mistletoe is a delightful, Christmas-themed anthology perfect for snuggling up in a warm blanket on a chilly day…or any other day for that matter!
Stunned by the heat of an unexpected kiss on a cold winter's eve, two strangers from vastly different worlds turn hotheaded principles into burning passion in Sabrina Jeffries's delightful yuletide story, The Heiress and the Hothead.
In the snowy Scottish countryside, Karen Hawkins's rakish duke has an unforgettable holiday encounter in Twelve Kisses when the alluring lady he surprises under the mistletoe is not who he expected, but a long-lost love with a score to settle.
In By Any Other Name, Edinburgh is aglitter for Christmastime as Candace Camp sends a curious gentleman in hot pursuit of an intriguing lady in disguise—one who refuses to reveal her true identity, though she fears he has already stolen her heart with his kiss.
In Sweet Ruin, will the festive spirit of the season sweep Meredith Duran's feisty heroine beneath the mistletoe—and back into the arms of the dashing rogue whose carelessness soiled her reputation and sent her into exile in London?
The book gave me a chance to return to the worlds of Karen Hawkins and Sabrina Jeffries, as well as introducing me to the newer writing styles of Meredith Duran and Candace Camp.
In "The Heiress and the Hothead" by Sabrina Jeffries, we get a closer look at Amanda Keane – sister of Jeremy Keane (from the Art of Sinning). Amanda is the owner of a cotton mill in America and her hero, Stephen, writes about the abuse of cotton mill workers in England. They are electric from the moment they meet and share a kiss under the mistletoe. The amount of history research that Ms. Jeffries packed into the novella is astounding, and yet it does not take away from the pleasure of the romantic elements in the story. The history background enhances the experience for the reader, and adds a sense of realism to the "The Heiress and the Hothead."
Karen Hawkins' "Twelve Kisses" is an equally delightful story. The characters Marcus and Kenna are reunited after 10 years and one stolen kiss under the mistletoe proves that these two have some unfinished business. Despite the short length of the novella, Ms. Hawkins is able to inject her signature humour and wit into a Scottish romance.The romance of the two characters is helped along with the aid of a fairy godmother – none other that the Grand Duchess from the Oxenburg series – who will make a fortune of her cupid-esque skills one day.
Candace Camp's "By Any Other Name" is an entertaining read. It features a case of mistaken identity, but will with a lighter twist. The heroine, Rylla Campbell, sneaks away dressed in her brother's clothes, who she is searching for. She meets with misfortune when leaving a gaming club during her search and is rescued by the hero, Gregory. It's love at first sight for the hero – a refreshing change – but it's not so easy for him to win Rylla's love in return (an interesting prospect for the reader because it proves to be delightfully entertaining).
In "Sweet Ruin" by Meredith Duran, a story about a bluestocking daughter of a peer and a commoner, we have a tale of epic proportions. The distinct social backgrounds of the characters provides an engaging backdrop for the tale of a a stolen letter and a diplomatic mission. The story is engaging and full of witty banter. However, it's short length let me wanting more.
I highly recommend this book to those looking for a light holiday read that will leave you with a feel-good mood!
November 4, 2015 | Categories: Book Reviews, Favourite Authors | Tags: anthology, ARC, historical romance, karen hawkins, review, Sabrina Jeffries, what happens under the mistletoe | Leave a comment
---
We finally have a cover for the upcoming anthology, Night Shift, featuring some reader favourites, like Nalini Singh, Illona Andrews, Lisa Shearin, and Milla Vane. Anthologies are a great way to try new writers and get the "flavour" of a series without major spoilers, and with some great stories – including Bastien's from the Psy-Changeling series – don't hesitate to give this one a shot!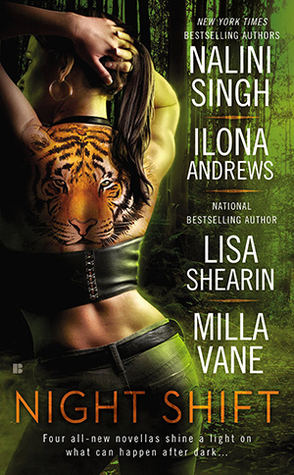 New York Times bestselling author Nalini Singh delivers a smoldering story with Secrets at Midnight, as the scent of Bastien Smith's elusive lover ignites a possessiveness in him that's as feral as it is ecstatic. And now that he's found his mate, he'll do anything to keep her.
In #1 New York Times bestselling author Ilona Andrews' novella, Magic Steals, when people start going missing, shapeshifting tigress Dali Harimau and jaguar shifter Jim Shrapshire must uncover the truth about the mysterious creatures responsible.
From Milla Vane—a warrior princess must tame The Beast of Blackmoor to earn a place among her people. But she quickly discovers that the beast isn't a monster, but a barbarian warrior who intends to do some taming himself.
It's seer Makenna Frazier's first day on the job at Supernatural Protection and Investigations, and her first assignment is more than she bargained for when bodyguard duty for a leprechaun prince's bachelor party goes every which way but right in national bestselling author Lisa Shearin's Lucky Charms.
The cover looks eerie cool with all the glowing green and orange!
–Rika Ashton
(aka Unashamed Cover Lover)
June 3, 2014 | Categories: Favourite Authors | Tags: anthology, beast of blackmoor, books, illona andrews, lisa shearin, lucky charms, magic steals, milla vane, Nalini Singh, night shift, paranormal, read, romance, secrets at midnight | Leave a comment
---
One of my all time favourite authors is Lynsay Sands! Both her paranormal series, about vampires from Atlantis, and historical romances are imbued with a wealth of humour, warmth and character chemistry. Her latest, an e-reissue of "Knight of My Dreams" (formerly called "Mother May I?" in A Mother's Way, an anthology), is built on not just the romantic relationship between two lovers, but also explores the – often very funny – relationship between a mother and son…
The Blurb: 
Lady Alice knows she is not the type to entice a man. She's too voluptuous, too intelligent, too strong-minded. Why, she even reads! But then Jonathan, Earl of Fairley, arrives at court. Tall, dark and handsome, the knight is any woman's dream. And he has just been ordered by the king to find a bride … and Alice is to help him!

Jonathan has been evading his mother's matchmaking schemes for years, so why does she insist that Lady Alice isn't for him? Alice is only to aid in his search for a bride, yet Jonathan can't help but be distracted by her glorious hair—the color of a sunset—and a figure that is like a lush berry about to burst to full ripeness … Has Jonathan fallen prey to love?
The Review:
For me, Jonathan's mother was undoubtedly the best part of "Knight of My Dreams." She excels at tactical manipulation and matchmaking. Moreover, she knows her opponent – in this case Jonathan, who will do the exact opposite of what she wants – very well. But she's as determined as her son to get what she wants – Jonathan's just lucky that his mother's goals happen to align with his own a little into the novel.
As for Jonathan and Alice, they were a sweet couple. Despite the fact that this novel is only a hundred or so pages, Lynsay Sands did a really good job giving our lead couple time to get to know one another. Jonathan and Alice had some passionate moments and some quiet ones, and both characters were introduced to the reader slowly. We, along with Jonathan's mother, get to see that they really are a good couple, as the different layers of their character are revealed to complement one another's.
But, of course, the Matchmaking Mama in "Knight of My Dreams" is what sealed the deal for me on this one. Don't get me wrong, Jonathan's mum is far from perfect, but her flaws only make her more endearing.
This is a great read, a 4 out of 5 for me – and just in time for Mother's Day. (Although, if you're a commitaphobe like me, you might give your mum some unwanted idea's with this one!)
–Rika Ashton
(aka "Still looking for Mother's Day gift ideas…")
April 29, 2014 | Categories: Book Reviews, Favourite Authors | Tags: a mother's way, Alice, anthology, historical, Jonathan, knight of my dreams, love, Lynsay Sands, matchmaking, mom, Mother May I, mother's day, reissue, romance | Leave a comment
---