What do the names Kenyon and Jones have in common? Fantastic covers, that's what!
I recently became insanely addicted to the Charley Davidson mystery series – seriously, how awesome is that name? – by Darynda Jones. The woman is a prolific writer, and good one, and the wait between novels has been short enough that I can devour read after read without feeling guilty. If you haven't started the series, or are debating the wisdom of doing so like I did not so long ago, you can read a free short story called For I Have Sinned on Heroes and Heartbreakers. (Be warned, you do have to be registered member and logged in to read. Registration is free and easy, however.)
The next book of the Charley Davidson series, Seventh Grave and No Body, releases this year on October 21st but we already have the title, blurb and cover for book eight – Eighth Grave After Dark.
 With twelve hellhounds after her, pregnant Charley Davidson takes refuge at the only place she thinks they can't get to her: the grounds of an abandoned convent. But after months of being cooped up there,  Charley is ready to pop. Both metaphorically and literally since she is now roughly the size of a beached whale. Fortunately, a new case has captured her attention, one that involves a murder on the very grounds the team has taken shelter upon. A decades-old murder of the newly-vowed nun she keeps seeing in the shadows is almost enough to pull her out of her doldrums.
Charley's been forbidden to step foot off the sacred grounds. While the angry hellhounds can't traverse the consecrated soil, they can lurk just beyond its borders. They have the entire team on edge, especially Reyes. And if Charley didn't know better, she would swear Reyes is getting sick. He grows hotter with every moment that passes, his heat scorching across her skin every time he's near, but naturally he swears he's fine.
While the team searches for clues on the Twelve, Charley just wants answers and is powerless to get them. But the mass of friends they've accrued helps. They convince her even more that everyone in her recent life has somehow been drawn to her, as though they were a part of a bigger picture all along. But the good feelings don't last for long because Charley is about to get the surprise of her crazy, mixed-up, supernatural life…
Eighth Grave After Dark releases May 19th, 2015.
But we promised you two for the price of one, so here's cover reveal number two!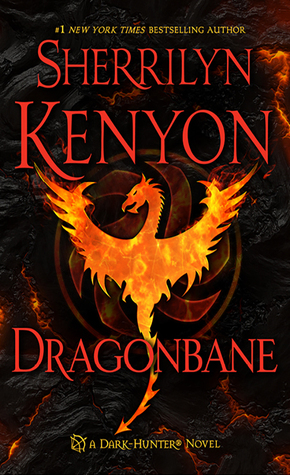 Sherrilyn Kenyon has been her usual busy self, and we have a cover, title and blurb for the next book of the Dark-Hunter (or Were-Hunter if one wants to get technical) fantasy series, Dragonbane:
Out of all the mysterious boarders who call Sanctuary home, no one is more antisocial or withdrawn than Maxis Drago. But then, it's hard to blend in with the modern world when you have a fifty foot wingspan.
Centuries ago, he was cursed by an enemy who swore to see him fall. An enemy who took everything from him and left him forever secluded.
But Fate is a bitch, with a wicked sense of humor. And when she throws old enemies together and threatens the wife he thought had died centuries ago, he comes back with a vengeance. Modern day New Orleans has become a battleground for the oldest of evils. And two dragons will hold the line, or go down in flames.
Max's book hit bookstores – though not literally – on August 4th, 2015.
So there you have it…two amazing covers for the price of one. How's that for whetting our appetite? Sadly, we'll have to wait for next year for the full enchilada.
-Rik…
CHAOS: Whoa, whoa, whoa…hang on! Aren't you going to tell them about the giveaway?
ME: Oh, right…okay, fellow readers, here's the deal. We will be doing a giveaway very, very soon  – our first ever actually – and you'll have a chance to win a copy by one of the amazing authors featured in this post. But you'll have to wait to see which one. Stay tuned on the blog and on Twitter for more news.
Okay, so that was actually three for the cost of reading one post. Yes, we really can't count here on Rika's Musings, but aren't you glad we failed elementary school Math? 😉
–Rika Ashton
(aka "Signing off for real this time.")
October 15, 2014 | Categories: Favourite Authors | Tags: blurb reveal, charley davidson, darynda jones, dragonbane, eighth grave after dark, fantasy, for I have sinned, giveaway, heroes and heartbreakers, Max, mystery, news, paranornal romance, seventh grade and no body, Sherrilyn Kenyon | Leave a comment
---
Warning: As much as I try to avoid these, spoilers may be present in this book review.
And today, for a review of Sabrina Jeffries' highly anticipated (at least by me) novel, What the Duke Desires!
Maximilian Cale, the Duke of Lyons, accepted long ago that his kidnapped brother was dead. When a cryptic note from investigator Tristan Bonnaud claims otherwise, Max seeks out Tristan's sister, Lisette—and is infuriated to learn that Tristan has also mysteriously vanished. Have the siblings perpetrated an elaborate hoax? Or is the fiercely protective beauty as innocent as she claims them to be?
Fearful that the powerful duke will destroy Tristan's career in his zeal for the truth, the clever Lisette convinces Max to accompany her to Paris in a joint search for their loved ones. But their journey takes a seductive twist when they pose as an ordinary husband and wife—not an English duke with a tarnished family name and the illegitimate daughter of a viscount—and discover an exhilarating passion free from the damning secrets of the past. With the line between danger and desire enticingly blurred, they discover that some mysteries, like those of the heart, are answered tenfold in the bliss of a true and trusting love.
What the Duke Desires is as much a novel about the influence of parents on children as it is a romance. Both Lisette and Max had childhoods, which although not perfect, were not entirely horrible either.
Lisette's mother, the French mistress of an English Viscount, was loving and supportive of her children and Lisette's father was likewise as loving, if a little absentminded. However, despite the fact that Lisette's mother and father loved one another, they were not married. According to Lisette, it seems as if her father kept putting of their marriage for one reason or another – and Lisette (as well as myself) assumed it was because he didn't want to marry his mistress. But the real tragedy arrives, when Lisette's father dies unexpectedly and his heir, George Manton (the story's main villain and Lisette's half brother) forces Lisette, her brother Tristan and her mother off his property. Dominick, George's brother leaves with them, choosing to support his half-siblings out of a sense of loyalty and love.
The history between Lisette's parents has turned her against marriage and men and towards  a way to be independent – and not fake independence either, the kind where the heroine talks about independence but doesn't do anything. Lisette had worked for the French police and now works for Manton's Investigations – it's clear she has a career and doesn't rely solely on her brother's for support. Another characteristic I liked about Lisette was her ability not to take herself, or what anyone says about her too seriously. She's able to fend off most of Max's accusations – and he makes some wild ones – with logic and good humour.
Dominick's wonderful and I have a sneaking suspicion that he will get a story, along with his ex-fiance, Jane – hopefully soon. He's a supportive brother and the head of Manton's Investigation, renamed The Duke's Men later in the book. As far as brothers go, I think Dominick is definitely a more responsible one than Tristan – though Tristan has his moments.
Tristan's another interesting character, with an interesting career as an agent for the Surete Nationale (the French Secret Police). While I'm sure Tristan will have his own novel soon (really how could he not with a career like his – so much potential), I think he has a little growing up to do before he's ready for a happily ever after.
But, since I'm sure the character you really want to know about is the Duke of Lyons, Maximillian Cale – or Max, as Lisette dubs him – I'll get to him now. Max meets Lisette when he storms into Manton's Investigations demanding to know where Tristan is. Tristan, as one would have it has sent Max a cryptic letter claiming he's found Max's long-lost, thought to be dead, brother but then didn't show up the the secret meeting. Max afraid this is some kind of hoax wants an explanation.
Readers might remember Max from the "Hellions of Halstead Hall" series – he's the duke that the ton considers "mad" – as in insane, not constantly angry, though if everyone kept calling me crazy, I'd think I had a right to be angry.
Max suffers from the fear that he had inherited a family madness, since both his father and great-uncle went mad. Because this is a romance, I knew that Max couldn't really be "mad," although I did second guess myself a lot, but I was really hoping for a good explanation – and, boy, did I get a good one. No, Max doesn't have a magical immunity which means that he won't go mad, but a much more scientific and believable explanation was given – and yes, I was very impressed because I had no idea something like this coud happen. (But, you'll have to read the novel to find out what it is, because no way am I spoiling something this good.)
When Max and Lisette meet, we finally get to see Lisette's dramatic side. She convinces Max – a duke – to pose as a commoner. As you can imagine, it's fun reading about a spoiled duke learning to live like a commoner. One of my favourite scenes in the novel occurs when Max learns that commoner's share bath water, between couples and sometimes between families:
"I merely thought you should know that you may have to wait a while for [your bath]. Madame insists that you have fresh water, and it will take a while to heat it. If fresh water is what you prefer."

Now Max was bewildered. "Of course I prefer fresh water. What else is there?"

The butler rolled his eyes, as if frustrated at dealing with someone so oblivious as Maximillian. "Wives and husbands often share bathwater in France, Mr. Kale. I forgot that you English can be…fastidious."

Several things hit Max at once. One, he'd forgotten that he was supposed to be married. Two, he'd forgotten that the servants didn't know he was a duke. And three, people actually shared bathwater?
Along with the funny moments is the steamy romance, which is signature of Sabrina Jeffries. Max and Lisette are attracted to one another, but both are resistant to act on these emotions. Lisette because she doesn't want to repeat her mother's mistake by falling in love with someone above her station, and Max because he knows that he'll fall in love with Lisette but fears he'll go mad and she'll suffer watching his digress. (But, of course, if you try to surress fire for too long, there's going to be an explosion!)
One thing I loved most about this novel was that Max and Lisette were not only good at admitting their feelings, but had good legitimate reasons for why they wanted to avoid marriage – not flimsy I-don't-want-to-marry-you-because-I'm-afraid-of-commitment kind of reasons.
But if you're still not convinced that Max and Lisette are a couple worth reading about, watch this video for some more funny teasers:
And, finally, as always I'm impressed with the amount of historical detail that goes into a Sabrina Jeffries novel. In What the Duke Desires, we get to meet Eugene Vidocq – a real criminal turned secret French investigator who lived in the time period.
So what's the verdict?
Go out and grab a copy of What the Duke Desires. Trust me, finding out what Max desires will be worth it.
Edited to add: Sabrina Jeffries has confirmed (in a group FB post) that the next novel will be about Max's relative (who I assume is Victor), followed by Tristan and then, Dominick's – she's saving him for last.
And if you've had a chance to read What the Duke Desires already, what are your thoughts? Are you loving the novel as much as I did or do you think I've lost my mind recommending this book? (Leave a comment with your thoughts and/or ravings.)
–Rika Ashton
(aka Book Reviewer Extraordinaire)
Disclaimer: All book quotes used in this review are the property of Sabrina Jeffries © 2013.
June 27, 2013 | Categories: Book Reviews, Favourite Authors | Tags: book recommendations, book reviews, dom, Dominick, duke, Eugene Vidocq, favourite authors, historical romance, Jane, Lisette, Max, regency, romance, Sabrina Jeffries, spoilers, Tristan, victor, what the duke desires | 2 Comments
---