Disclaimer: I received an ARC of this novel from the publisher in exchange for an honest review. And as always, spoilers are handled with extreme caution!
The talented Susan Dennard, author of the Something Strange and Deadly series – which began with the first installment of the same name, if you don't count the prequel A Dawn Most Wicked – concludes her series with the final installment, Strange and Ever After.
The Blurb: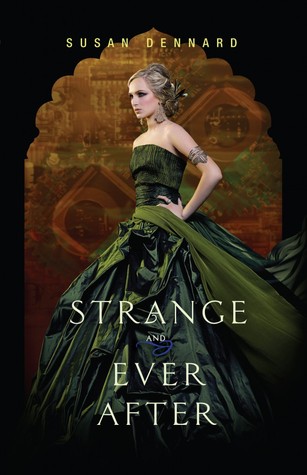 In the conclusion to the trilogy that Publishers Weekly called "a roaring—and addictive—gothic world," Eleanor Fitt must control her growing power, face her feelings for Daniel, and confront the evil necromancer Marcus…all before it's too late.
He took her brother, he took her mother, and now, Marcus has taken her good friend Jie. With more determination than ever to bring this sinister man to justice, Eleanor heads to the hot desert streets of nineteenth-century Egypt in hopes of ending this nightmare. But in addition to her increasingly tense relationships with Daniel, Joseph, and her demon, Oliver, Eleanor must also deal with her former friend, Allison, who has curiously entangled herself in Eleanor's mission.
With the rising dead chomping at her every move and Jie's life hanging in the balance, Eleanor is convinced that her black magic will see her through to the bitter end. But there will be a price. Though she and the Spirit Hunters have weathered every battle thus far, there will be consequences to suffer this time—the effects of which will be irreversible. And when it's over, only some will be able to live a strange and ever after.
The Review:
I've been on this "strange and deadly" ride since the beginning and, despite some frustrating turns, I did not want it to end. Ms. Dennard has created a darkly compelling world of complex characters and intricate conflict. And Strange and Ever After was a fitting conclusion for this series.
Strange and Ever After, although I tale of romance at heart – if you'll excuse the pun, also has enough adventure to keep the most restless of readers turning the page. Where we first got to visit 1876 Philadelphia, and later Paris, we are now taken to the pyramids of Egypt. Of all the worlds we've explored in this series, I think Egypt is my favourite – but, really, who could resist mummies and magic?
With enough world-building to make the escapist in all of us happy, I think Strange and Ever After is one very perfect summer read!
–Rika Ashton
(aka Sometimes YA Book Blogger)
July 30, 2014 | Categories: Book Reviews, Favourite Authors | Tags: ARC, Daniel, eleanor, historical, marcus, necromancer, review, romance, series, something strange and deadly, spoiler free, steampunk, strange and ever after, susan dennard, YA | Leave a comment
---