Disclaimer: I received an ARC of this novel from the publisher in exchange for an honest review.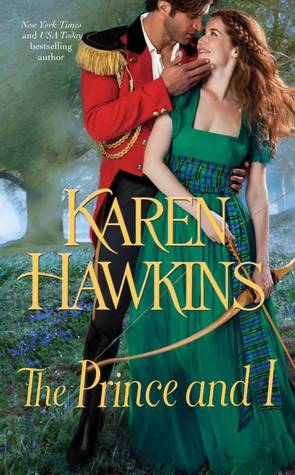 A Robin Hood retelling with a twist! Karen Hawkins' latest installment in the Oxenburg series, The Prince and I, features a colourful cast of characters…
Gregori Romanovin, Oxenburg's warrior prince, is escorting his grandmother to a house party deep in the Highlands when he and his entourage are robbed at sword point by a group of ruffians led by a man the locals have dubbed "The Scottish Robin Hood." The battle-savvy prince instantly realizes there's something different about this thief, and it's not just the Scottish accent—it's the fact that "he" is really a "she."
Lady Murian, a young widow out for revenge against the powerful earl who killed her husband and stole his birthright, is now living in the woods with her family's banished retainers. To stay alive, she and her band of men rob rich nobles coming to visit the evil earl. But when she ambushes the Prince of Oxenburg's golden coach, she gets far more than she expected. For when the prince uncovers her true identity, she's afraid that he might be the real thief…of her heart.
I've been waiting a long time for Prince Gregori – the scarred warrior prince of Oxenburg's story, and The Prince and I  delivers an entertaining backstory. Prince Gregori was the highlight of the novel for me. He is an impressive character, who is loyal to both his family and later to Muriel as well. Although described as physically strong and heroic, he's a realistic character who admits his faults and can actually apologize for when he becomes a bit high-handed:
Max looked past her to the village where his men worked, and suddenly he saw it through her eyes. Who was he to ride into her village like some arrogant knight on a white horse and, without consulting her or anyone else, "fix" everything in sight?
"I should have asked. I'm sorry."
Gregori was a refreshing character. Funny and witty…he's not easily fooled by anyone, especially not the villain of the novel. Though a renowned war hero and a prince, his retains his humour and does not view everything with cynicism.
Muriel was also an interesting character. Her actions as "Robin Hood" would certainly have been more entertaining for me if Gregori hadn't stolen the show. There is nothing wrong with Muriel as a heroine. She's a sympathetic character, who takes fate into her own hands and takes measure to rescue herself and her loved ones from their circumstances. She portrays her loyalty in a myriad of ways and she is creative and ingenious.
But…
Gregori!
He literally stole the show from his own love interest – at least for me. From the second Gregori and his grandmother appeared on the scene in their carriage to the moments later when they were getting held up by highwaymen, his character literally leapt off the page.
The supporting cast and their subplots, especially Tata Natasha's were captivating in there own way, but truly no one captivated me in quite the same way as Prince Gregori of Oxenburg!
For him alone, I name this a great summer read!
August 19, 2015 | Categories: Book Reviews, Favourite Authors | Tags: historical romance, karen hawkins, retelling, robin hood, the prince and I | 4 Comments
---