Disclaimer: I received an ARC of this novel from the publisher in exchange for an honest review. And as always, spoilers are handled with extreme caution!
The talented Susan Dennard, author of the Something Strange and Deadly series – which began with the first installment of the same name, if you don't count the prequel A Dawn Most Wicked – concludes her series with the final installment, Strange and Ever After.
The Blurb: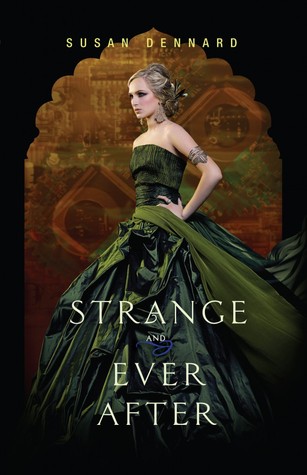 In the conclusion to the trilogy that Publishers Weekly called "a roaring—and addictive—gothic world," Eleanor Fitt must control her growing power, face her feelings for Daniel, and confront the evil necromancer Marcus…all before it's too late.
He took her brother, he took her mother, and now, Marcus has taken her good friend Jie. With more determination than ever to bring this sinister man to justice, Eleanor heads to the hot desert streets of nineteenth-century Egypt in hopes of ending this nightmare. But in addition to her increasingly tense relationships with Daniel, Joseph, and her demon, Oliver, Eleanor must also deal with her former friend, Allison, who has curiously entangled herself in Eleanor's mission.
With the rising dead chomping at her every move and Jie's life hanging in the balance, Eleanor is convinced that her black magic will see her through to the bitter end. But there will be a price. Though she and the Spirit Hunters have weathered every battle thus far, there will be consequences to suffer this time—the effects of which will be irreversible. And when it's over, only some will be able to live a strange and ever after.
The Review:
I've been on this "strange and deadly" ride since the beginning and, despite some frustrating turns, I did not want it to end. Ms. Dennard has created a darkly compelling world of complex characters and intricate conflict. And Strange and Ever After was a fitting conclusion for this series.
Strange and Ever After, although I tale of romance at heart – if you'll excuse the pun, also has enough adventure to keep the most restless of readers turning the page. Where we first got to visit 1876 Philadelphia, and later Paris, we are now taken to the pyramids of Egypt. Of all the worlds we've explored in this series, I think Egypt is my favourite – but, really, who could resist mummies and magic?
With enough world-building to make the escapist in all of us happy, I think Strange and Ever After is one very perfect summer read!
–Rika Ashton
(aka Sometimes YA Book Blogger)
July 30, 2014 | Categories: Book Reviews, Favourite Authors | Tags: ARC, Daniel, eleanor, historical, marcus, necromancer, review, romance, series, something strange and deadly, spoiler free, steampunk, strange and ever after, susan dennard, YA | Leave a comment
---
At last here it is, the long anticipated review of the Gentlemen Vampyres by Lydia Dare trilogy along with an interesting revelation at the end of the post…
The first book, It Happened One Bite, in the series stars our favourite warrior witch, Blaire Lindsey, and the vampire trapped in her brother's castle, James Maitland:
He's lost, trapped, doomed for all eternity… 
Rich, titled, and undead, gentleman vampyre James Maitland, Lord Kettering, fears himself doomed to a cold and lonely existence-trapped for decades in an abandoned castle. Then, beautiful Scottish witch Blaire Lindsay arrives, and things begin to heat up considerably…

Unless he can persuade her to set him free…
Feisty Blaire Lindsay laughs off the local gossip surrounding her mother's ancestral home-stories of haunting cannot scare off this battle-born witch. But when she discovers the handsome prisoner in the bowels of the castle, Blaire has no idea that she has unleashed anything more than a man who sets her heart on fire…
The witch meets the vampire, and the series starts off with a bang…I could say I loved the book from start to finish, because I did, but I really want you to know why I loved the book. So I'm going to tell you, and title this part of the review…
Ten Reasons to Love It Happened One Bite:
1. One castle…presumably haunted.
2. It contains a vampyre who doesn't sparkle, who is also the hero.
3. A fire wielding witch, who is also the heroine.
4. Villains who act like villains.
5. A clairvoyant witch.
6. A heartbroken, potential future hero.
7. The final showdown is not a staring contest.
8. An adorable younger brother.
9. A small tribute to the Vampire Diaries.
10. A interesting twist at the very end, that makes you feel all warm and tingly with its romantic sweetness.
All very good reasons for reading this novel…But I have to say this book made me laugh and then cry. (Though that was mostly Alec's doing, who was obviously still nursing a wounded heart…don't worry Alec, your Happily Ever After is arriving soon!) I was also glad that Blaire was how I remembered her from Cait's novel, brash, bold and as tough as ever. James, on the other hand is a never before seen character — and, although Cait's vision had me thinking that he might have ulterior motives, he was actually a complete (or in most cases, complete) gentlemen. ( A nice change from all the badboys I've been reading about.) My favourite part of the novel, was the twist at the end — completely unexpected, and a total change from other vampire myths, and oh so sweet!
The next novel, In The Heat of the Bite, is about Rhiannon Sinclair — weather controlling witch — and Matthew Halkett — a chivalrous vampire:
Chivalry is far from undead…
Matthew Halkett, Earl of Blodswell, is one of the few men in the ton who can claim to be a knight in shining armor- because that's precisely what he was before being turned into a vampyre. When he spies a damsel in distress in the midst of a storm in Hyde Park, his natural instinct is to rush to her aid…
But not every woman needs to be rescued…
Weather-controlling witch Rhiannon Sinclair isn't caught in a storm-she's the cause of it. She's mortified to have been caught making trouble by the imposing earl, but she doesn't need any man-never has, and is sure she never will…
But when Rhiannon encounters Matthew again, her powers go awry and his supernatural abilities run amok. Between the two of them, the ton is thrown into an uproar. There's never been a more tempestuous scandal…
Matthew can't let go of his knightly code of chivalry, and Rhiannon is too tough to need rescuing…or is she? Matt was so sweet, with the way he falls for Rhiannon at first sight — though he doesn't know it, we do — and his continous attempts at trying to rescue her. Plus, you know how much I love the alpha male hero, and Matt can be very alpha. (He gets a lot of opportunities to as well, with Dash's ultra-hot half-brothers always underfoot.) Rhiannon, on the other hand, has grown up independent — with her absentminded father and I'm-too-jealous-of your-witchy-coolness-to-care-about-you aunt. (Yup, hate her aunt!) Her sister, though sweet, is too young to realize Rhiannon isn't as indestructible as she seems. Underneath Rhiannon's strong exterior is some serious loneliness and vulnerability that even her coven sisters don't understand.
Matt does though, and that's what makes him so sweet — and such a distraction to Rhiannon. However, added to Matt's love for Rhiannon is his need to protect her from his vampirism — he really doesn't need to worry about that, but both he and Rhiannon don't know that (we do though…actually there are a lot of things that we know but the characters don't, courtesy of the first book in the series).
Is there a villain in this book? Yes and no. There is the cruel aunt and the cruel (but complex) sire/mentor of Matthew, but neither are conventional villains. First off, the aunt was more of a supporting villain that a real antagonist and dealt with easily. The sire is never dealt with but disappears. The book seemed to focus on the characters inner conflicts that on outer drama, but was enjoyable nonetheless.
The last book of the series, Never Been Bit, is the much awaited story of Sorcha Ferguson and Alec McQuarrie:
The glittering world of high society is the playground for the rich, titled, and reluctantly undead…
Alec MacQuarrie's after-life has become an endless search for pleasure in an effort to overcome his heartbreak and despair. Wandering through the seedy world of London's demimonde, he's changed into a dark and fearsome creature even he doesn't recognize until he stumbles into a magical lass he knew once upon a time and sees a glimpse of the life he could have had.
But the ton is no match for one incorrigible young lady…
After watching each of her coven sisters happily marry, Sorcha Ferguson is determined to capture a Lycan husband of her very own. When she encounters Alec, she decides to save her old friend from what he's become, all while searching for her own happily-ever-after.
Over his dead body is Alec going to allow this enchanting innocent to throw herself away on an unworthy werewolf, but that leaves him responsible for her, and he's the worst monster of them all…
The last novel contains the "unworthy werewolf" vs. the "unworthy vampire" syndrome, developed mostly through the contemplations of one Alec McQuarrie. He thinks he doesn't, but actually does, think of Sorcha that way but doesn't want to see her fall for a werewolf either. (Confused, yet?) Alec loved Cait and thinks his heart died when she married Dash, but in comes Sorcha. Sorcha is a bright ray of sunshine to Alec constantly cloudy mood.
So then what's the problem?
Sorcha wants to marry a werewolf like Elspeth and Cait.
Problem two?
Alec doesn't want her to.
Problem three?
The Hadley brothers are back and more than willing to help Sorcha rectify her unmarried state…and Alec is more than willing to punch them.
And the biggest problem of all?
Alec thinks he's too dangerous for Sorcha, what with him being a vampire and all.
You've all heard me moan about how sad poor little Alec is and how heartbroken…Sorcha thinks so too, and makes it her duty to avoid the subject of Cait at all costs. (Ain't she sweet?) But Cait doesn't want to be avoided and wants Alec to move on…with Sorcha (who she knows is Alec's HEA).  Alec has moved on (to a point) but also continues to brood, which annoyed me at times, since it was so obvious he wanted Sorcha.
Of course, I nearly died of happiness when Alec pulled himself together and started to pursue Sorcha for real. (Score!) Poor girl really didn't stand a chance.
My overall impression of the Gentlemen Vampires series was that it was nearly flawless in it execution of the plot. The events of each book fit together perfectly. And the little bit about the dramatic irony (us knowing more about the events than the characters in subsequent novels) kept the stakes high and rising.
So from me the series gets a 10/10.
And now…THE REVELATION:
On Twitter, Lydia Dare finally put me out of my misery and revealed that the hero of The Wolf Who Loved Me is Weston Hadley (and the heroine is Madeline Hayburn). In the book, Madeline finds herself in a precarious situation when she sees Weston turn into a wolf right before her very eyes.
Oh the anticipation!
–Rika Ashton
(aka The Very Excited)
November 20, 2011 | Categories: Book Reviews, Favourite Authors | Tags: Alec, Blaire, historical, It Happened One Bite, James, lydia dare, Madeline Hayburn, Matthew, Never Been Bit, paranormal, review, Rhiannon, romance, series, Sorcha, The Heat of the Bite, The Wolf Who Loved Me, Weston Hadley | Leave a comment
---
I'm a long time Sabrina Jeffries fan, having devoured each and every one of her books, so I can say with some certainty that she has the just the right amount of humour, romance, suspense and drama in her books. The drama and suspense are usually interlinked and keep the novels flowing and the pages turning. Up till now, the mystery in each novel was usually solved at the end and characters (not just the hero and heroine) had a definitive ending. However, in her newest series Ms. Jeffries proves that she is a true master of suspense and can stretch out a single mystery throughout a series.
The big question is "What really happened to the parents of the Sharpe children?" – as in who killed them, etc.
While I usually read romance for the romance, I do like the occasional mystery thrown in and for me, the "Hellions of Halstead Hall" series has just the right amount of both to keep the reader guessing.
The first novel in the series is Oliver Sharpe, Marquess of Stoneville's story, The Truth About Lord Stoneville:
The oldest of the scandalous Sharpes—five hell-raising siblings tainted still by the gossip surrounding the "accidental" deaths of their parents two decades ago-—Oliver Sharpe, the Marquess of Stoneville, like his brothers and sisters, has lived life on his own terms. In his case, as an unrepentant rakehell. Or so life had played out until Grandmother Hetty got a bee in her bonnet. Now the five Sharpe siblings face a daunting ultimatum: Marry by year's end—or kiss their inheritance good-bye.

Oliver vows to fulfill the bargain in true Sharpe style—by bringing home a fake fiancé from a brothel! But his scheme backfires when he foils a robbery and rescues an American beauty instead. Maria Butterfield came to London to find her missing fiancé, but her prior engagement won't stop Oliver from getting what he wants: Maria in his bed. His rebellious charade may just call Hetty's bluff, but not before it become all too real—stirring up a love that tempts him to be a hellion no more.
What can I say about this book? Well, Grandmother Hetty is one crazy lady, and I love her for it. She issues an ultimatum to end all ultimatums and all I could think was "finally." I've been waiting to see Oliver wedded and bedded since Ms. Jeffries novel Wed Him Before You Bed Him and the rest of the "School for Heiresses" series where he was a red herring thrown at the readers by Ms. Jeffries as a possible hero for Charlotte.
Though, in this novel, we see that there's a lot more to Oliver that meets the eye. He's not just a rogue, though he is that too, but someone who has gone through his own tragedy and lived with the guilt that he was the cause of it for most of his life. Every believes Oliver killed his father for his inheritance, but Oliver thinks it was his mother who killed him and he was the one who drove her to it. For a while I was convinced that Oliver had some validity to his guilt, mostly because he was so convinced but also confused about what really happened that night…
Cue for Maria. Maria enters Oliver's life at a just the right time. Oliver, who's lived his life drinking, gambling and wenching, is about to find a fake fiancee from a brothel. Maria, who happens to be in London looking for her own fiance, meets Oliver as he is about to leave a brothrel due to a mishap caused by her cousin, Freddy. (Freddy, another great character but more on him later.) Maria is good for Oliver. She's smart and practical, which Oliver is not but that mostly because he's letting his guilt blind him. Maria is also very sweet, but it's her spitfire moments that I love the most. She can really put Oliver in his place which I admired.
That is not to say all is well in paradise. For one thing, the initial "arrangement" between these two is of a business nature. Oliver wants to use Maria bold American ways to convince his grandmother to rescind her ulimatum and Maria agrees as long as Oliver helps her find her MIA fiance since he knows London better than her. The business arrangement doesn't last, of course, due to the lust phase but immediately after we have Oliver's I-want-her-but-can't-love her phase. He does have a better reason than most to shun love considering how it destryoed his mother's life but still, since I already knew he was in love with her – and so did every other character in the novel – I just wished he would admit it.
I liked the interactions between the secondary characters, particularly their matchmaking ways. Oliver's brother's used every opportunity a their disposal to make Oliver jealous – which is always nice. 😉
Speaking of Oliver's brothers, one brother in particular gets his own story next. Jarret the second bro meets his match in A Hellion in Her Bed:
Mired in scandal after his parents' mysterious deaths, notorious gambler Lord Jarret Sharpe agrees to tamely run the family's brewery for a year if his Machiavellian grandmother rescinds her ultimatum that he marry. But the gambler in him can't resist when beguiling Annabel Lake proposes a wager. If she wins their card game, he must help save her family's foundering brewery. But if he wins, she must spend a night in his bed. The outcome sets off a chain of events that threatens to destroy all his plans…and unveils the secret Annabel has held for so long. When Jarret discovers the darker reason behind her wager, he forces her into another one—and this time he intends to win not just her body, but her heart.
As a character Jarret is even more complex than Oliver. He's feels jealousy, betrayal, anger and love towards his grandmother. As a child, Jarret wanted to run the family brewery and for a while it seemed like he would get his wish, but then his grandmother suddenly sends him away to school. He still a kid and has no idea why that is, so he feels betrayed by his grandmother who promised to keep him close and lashes out at school, gets into fights, etc. Jarret the man still holds on to this hurt and tries to feel no ambitions towards anything in life but when he's given the chance to run the brewery he jumps on it.
Enter Annabel. Annabel's got her own secrets to deal with and these make her very, very vulnerable. Annabel has a bastard son by her fiance who died in the war. Annabel has kept George a secret from everyone but her brother and sister-in-law who raise him as their own. Even George doesn't know that Annabel is his mother. My heart broke for Annabel every time I saw her interact with George who called her "auntie" and I could see how much she cared for him. Annabel was a mother to George in every way she could be. She protected George from the stigma of a bastard child by letting her brother adopt him, despite how much she loved him and wanted to keep him.  
Another thing I liked about this novel was that the heroine and hero were shown in the phases of falling in love, and actually got to spend a good amount of time with the other. Revealing secrets to each other in turn. I admired Jarret for the way he handled Annabel's revelation and how he didn't blame her for her past. I also liked how he made an effort to get to know George. Jarret and Annabel truly deserved their happily ever after, despite things not turning out as expected between Annabel and George.
The third, most recently released, novel in the series is How to Woo a Reluctant Lady which tells the story of Miverva Sharpe, the gothic writer in the family:
Lady Minerva Sharpe has the perfect plan to thwart her grandmother's demand that she marry by year's end:  become engaged to a rogue!  Surely Gran would rather release her inheritance than see her wed a scoundrel.

And who better to play the part of Minerva's would-be husband than wild barrister Giles Masters, the very inspiration for the handsome spy in the popular gothic novels she writes?  The memory of his passionate kiss on her nineteenth birthday has lingered with Minerva, though she has no intention of falling for such a rakehell, much less marrying him! Little does she know, Giles really is a covert government operative.  When the two team up to investigate the mystery behind her parents' deaths, their fake betrothal leads to red-hot desire. Then Minerva discovers Giles's secret double life, and he must use all the cunning tricks of his trade to find his way back to her heart.
I love a hero with ulterior motives that involve trying to sweeping a heroine off her feet and marrying her without her knowledge…Yup, Giles thinks he's one sly guy. And maybe he is, but not when it comes to the woman he loves – but doesn't admit to loving. Seriously, what's with heroes who try to deny that their falling in love, when everyone and their grandmother knows that they are? But, oh, how the mighty fall. Giles convinces Minerva to enter a "fake" betrothal with him, hoping to persuade her to make it a real one.
Minerva, on the other hand, enters in hopes of making her grandmother regret her decision to see her married by picking a man she thinks Hetty will despise. Her plans goes awry from nearly the start, since Giles and Hetty are working together to get her to marry Giles. (Good stuff, good stuff!) Minerva has some valid reasons for not wanting to marry Giles. One, she thinks she will have to give up her writing – which is what she lives for – because most consider it a scandalous occupation for a barrister's wife. Two, she knows as a female she'll be powerless in marriage and she saw that powerlessness destroy her mother.  
Giles and Minerva also have history, with Minerva having fallen in love with him at 9 and then Giles having broken her heart at 19 and then Minerva wanting revenge till she is 28. Giles doesn't know he broke Minerva's heart, onlying knowing that he was cruel to her because he panicked after he kissed her at a masquerade ball.
One, though not very romantic scene, that stood out to me was the court case. The way Giles went at the woman in the witness box was like watching the last court scene from Legally Blonde. EPIC!!!
Finally, there is Freddy. Maria's sweet, dense, clumsy, romantic and ever-hungry cousin who appears in books one and three. One thing I could say about him was that despite being dense, at least he knows how to admit it when he's in love and doesn't enter "business marriages:"
"I always say that love is like the meat in a pie," Freddy put in. "The crust is what people see—the practical things that hold a couple together. But love is the important part—without it you've got a meatless pie, and what's the point of that?"
"Why, Freddy," Minerva said, "that was almost profound."
 Is it wrong of me to find him adorably romantic?
 All in all, I am loving this series and all the mysteries it entails. Like I said before, Ms. Jeffries is keeping the readers with all the red herrings she's throwing our way. She far in each of the novels their have been dead-end leads, false leads and some more hopeful leads as to what really happened to the parents…and I, like the Sharpe children, will not rest till I've find out "who did it." 
 –Rika Ashton (aka The Curious)
P.S: And so the mystery continues in Gabe's story (out December 2011) and Celia's (hopefully) shortly after.
 P.P.S: For book trailers, interviews and background info on any of the book visit Sabrina Jeffries' website.
January 24, 2011 | Categories: Book Reviews, Favourite Authors | Tags: A Hellion in Her Bed, Annabel, book reviews, Celia, Gabe, Giles, Hellions of Halstead Hall, historical romance, How to Woo a Relectant Lady, Jarret, Maria, Minerva, Oliver, regency, review, romance, Sabrina Jeffries, series, The Truth About Lord Stoneville | 12 Comments
---