This week I pulled out a book from my "to-be-read" pile to share with you all – Mary Balogh's Slightly Dangerous.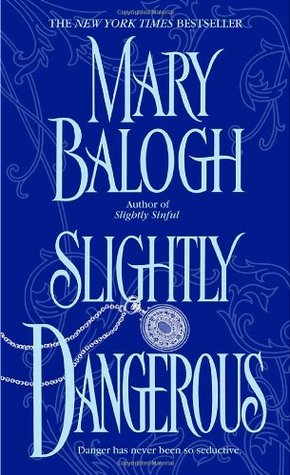 All of London is abuzz over the imminent arrival of Wulfric Bedwyn, the reclusive, cold-as-ice Duke of Bewcastle, at the most glittering social event of the season. Some whisper of a tragic love affair. Others say he is so aloof and passionless that not even the greatest beauty could capture his attention.
But on this dazzling afternoon, one woman did catch the duke's eye—and she was the only female in the room who wasn't even trying. Christine Derrick is intrigued by the handsome duke…all the more so when he invites her to become his mistress.
What red-blooded woman wouldn't enjoy a tumble in the bedsheets with a consummate lover—with no strings and no questions asked. An infuriating lady with very definite views on men, morals, and marriage, Christine confounds Wulfric at every turn. Yet even as the lone wolf of the Bedwyn clan vows to seduce her any way he can, something strange and wonderful is happening. Now for a man who thought he'd never lose his heart, nothing less than love will do.
With her trademark wit, riveting storytelling, and sizzling sexual sparks, Mary Balogh once again brings together two polar opposites: an irresistible, high-and-mighty aristocrat and the impulsive, pleasure-loving woman who shows him what true passion is all about. A man and a woman so wrong for each other, it can result only in the perfect match.
I confess, I have never read a novel by Ms. Balogh, but she seems to be on most "must-read" piles so I placed this novel on my reading list a long while ago. (Only, I have yet to actually read the darn thing…argh! Other novels just keep getting in the way.)
Who are some TBR authors you never get to?
–Rika Ashton
(aka #HavingBookwormProblems)
---
---
---
This week for Throwback Thursday, I thought I'd shine the spotlight on a novel that I haven't read yet, but one that has been on my "must-read" list for ages. Judith McNaught's A Kingdom of Dreams comes highly recommended by many of my own favourite authors, including Julia Quinn. Unfortunately, I haven't had a chance to read it yet. 😦
Abducted from her convent school, headstrong Scottish beauty Jennifer Merrick does not easily surrender to Royce Westmoreland, Duke of Claymore. Known as "The Wolf," his very name strikes terror in the hearts of his enemies. But proud Jennifer will have nothing to do with the fierce English warrior who holds her captive, this handsome rogue who taunts her with his blazing arrogance. Boldly she challenges his will—until the night he takes her in his powerful embrace, awakening in her an irresistible hunger. And suddenly Jennifer finds herself ensnared in a bewildering web…a seductive, dangerous trap of pride, passion, loyalty, and overwhelming love.
Seems like this novel will consist of a love-hate relationship…a thematic trope that I'm slightly tired of, but I might give it a shot because this cover is gorgeous! (Yes, I'm that shallow.) But can you blame me, this cover has such a fairy-tale feel to it.
I'm going to try and make time for this novel over the long weekend we have coming up…it's very much overdue for a reading.
But for those of you who have read it…what did you like about this novel? What did you hate? And if you haven't read it, would you…judging by cover or blurb?
–Rika Ashton
(aka Shallow Cover Lover)
---
---
This week I found a long lost treasure – personally speaking – after searching high and low for it. I read Barbara Dawson Smith's Countess Confidential early on in my journey to the world of romance reader. I remember thinking it was a heartwarming tale, but I never kept track of the novel, nor did I read anything more by this author at the time. You see, I was still in the stage of sowing my wild oats and hopping from the pages of one novel to another – so I most likely couldn't tell you the names of most of the novels I read in those days (except, my first…it's likely that everyone remembers their first.)
But when I rediscovered Countess Confidential – after a very hectic Google search that involved typing in variations of the title and the hero's name (which I happened to recall): "The Confessions of a Countess," "Countess Confessional," and "Countess Simon." The last of which yielded the following result:
Needless to say, Simon Cowell is not even close to what I had in mind…
I was about to give up, when in a last ditch effort I typed in everything I could recall about this novel, summed up as "Countess Simon romance novel historical." Yes, it wasn't much, but fortunately for me the Google gods were listening and happened to answer the desperate pleas of this romance novel enthusiast, and I finally found the novel that would become this week's Throwback Thursday pick:
New York Times bestselling author Barbara Dawson Smith mesmerizes readers once again in her latest novel of a woman forced to enter the aristocratic world she despises–only to find a man she can't live without…
Dear Reader,
This is the story of how I, a penniless upstart, became a countess.
I never set out to be the heroine in a romantic tale of derring-do. As a spinster of five-and-twenty, I was much too practical to imagine myself tracking a dangerous criminal or falling prey to ardent nonsense. Nor did I ever envision myself entering the gilded ballrooms of society where indolent aristocrats nibbled cake and traded gossip. But that was before my father was wrongfully imprisoned as a jewel thief.
Determined to uncover the true criminal, I posed as an impoverished widow and secured a post in the grand household of a noble family – the very family that had cruelly cast out my mother many years ago. Of course, they knew not who I was. To them, I was merely a servant, an invisible hireling. And little did I know, my daring plan would throw me into the path of Simon Croft, the almighty Earl of Rockford.
Arrogant, charming, and too handsome for his own good, he might have walked straight off a pedestal in a museum. I had no use for such a rogue, yet from the moment of our first meeting, he tempted my unruly heart. And soon, he threatened my schemes as well, for Simon had secrets of his own….
-Claire, the Countess of Rockford
As I start to reread Countess Confidential, I'm rediscovering all the elements I loved about it in the first place. The mystery and the humour keeps me turning the pages. The banter between Simon and Claire escalates into an unconditional love. Claire is such a strong character, and willing to go to extreme lengths to protect those she loves. Simon is a good foil for her, loving but no less determined.
I know I'm going to enjoy reading towards the happily ever after as much as I did the first time!
–Rika Ashton
(aka Google Gods Disciple)
---
---
---
---
---