---
---
Disclaimer: Rika's Musings received an ARC of this novel in exchange for an honest review.
What happens when Cinderella meets Karen Hawkins in The Prince Who Loved Me? Well, let's just say that it involves plenty of classic Hawkins humour, a curse-wielding grandmother, and a prince who redefines the word HOT!
The Blurb: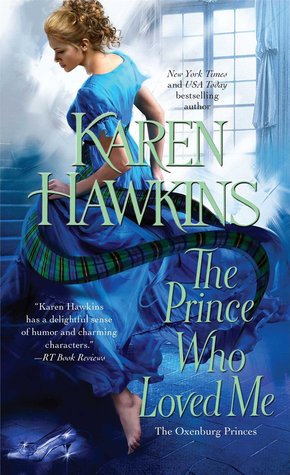 A handsome, rakish prince who doesn't believe in true love meets a stubborn lass who will settle for nothing less…In a lighthearted retelling of a classic fairy tale, bestselling author Karen Hawkins gives Cinderella a Scottish twist!
Prince Aleksey Romanovin enjoys his carefree life, flirting—and more—with every lovely lady who crosses his path. But when the interfering Grand Duchess Natasha decides it's time for her grandson to wed, Aleksey finds himself in Scotland, determined to foil her plans. Brainy, bookish, and bespectacled, Bronwyn Murdoch seems the perfect answer—she isn't at all to the duchess' taste.
Living at the beck and call of her ambitious stepmother and social butterfly stepsisters, Bronwyn has little time for a handsome flirt—no matter how intoxicating his kisses are. After all, no spoiled, arrogant prince would be seriously interested in a firm-minded female like herself. So . . . wouldn't it be fun to turn his "game" upside down and prove that an ordinary woman can bring a prince to his knees?
The Review:
The Prince Who Loved Me was funny, witty, and romantic. I enjoyed reading fairy tales as a child, but Ms. Hawkins' twist on the classic tale of Cinderella is a fun read for adults. It may not have wicked stepsisters, but a matchmaking (and adorably meddlesome) grandmother leaves plenty of room for some hilarious drama!
Alexsey was a prince after my own heart. He might be a bit of a rake, but he's a rake who enjoys reading! He seduces Bronwyn's mind, and that pretty much makes him the sexiest thing since the invention of the printing press. 😉
The stranger's smile widened into a grin, his teeth flashing white. His bold jaw, forged of raw masculinity and shadows by the lack of shave, indicated a determined character, confirmed by the nose of a caesar. High cheekbones slanted beneath eyes that held the hint of an exotic flare, and his skin was the golden hue of someone who'd spent many hours outdoors.
And now this paragon was walking towards her…
Alexsey was an intriguing characters since the moment of his first introduction, but when he promises to build Bronwyn a library – yes, a library – he pretty much wins over my heart.
"I will give you everything your heart desires. New gowns, a library full of books…"
And Bronwyn was completely deserving of Alexsey's love. Despite being socially-awkward and a little shy, Bronwyn is surprisingly adventurous and courageous once she's given her heart. Although both her stepmother and Alexsey's grandmother erected barriers that may have discouraged any other girl from seeing her lover, Bronwyn's determination meant she was able to overcome the obstacles. She certainly didn't let any locked doors keep her trapped for long.
Ms. Hawkins' also did a wonderful job of juxtaposing Alexsey and Bronwyn's passionate love story, with the more chaste narrative of "The Black Duke" dispersed throughout the novel, at the beginning of every chapter. The heroine of the story-within-a-story, Lucinda, is more of a wilting violet and her self-afflicted helplessness is a great foil for Bronwyn's character.
Behind Lucinda, the curtains stirred as a hand holding a knife appeared. With a harsh cry, Sir Mordred leapt from behind the curtains and plunged the knife toward Lucinda. Time froze. The youthful innocent stared in horror as the knife seemed to slowly arc toward her pure, untouched heart! And in that second, balanced so precariously between life and death, she thought of the one man who held that very heart, though he might not know it – brave Roland.
The flowery language that Ms. Hawkins purposefully uses to describe events in Lucinda's story is a shared source of humour for the readers and the characters in The Prince Who Loved Me, making Bronwyn and Alexsey all the more complex and "real" to the reader.
The secondary cast of characters was equally as interesting as the main characters and there were certainly enough twists and turns in this novel to keep the reader wondering what was going to happen next and who would do what. Two characters in particular – and I won't say who for fear of spoilage – kept me guessing what their motives were.
Overall, I can say that no one has every written a reinvention of Cinderella quite like The Prince Who Loved Me. Full of a colourful cast of characters and hilarious conflict, it certainly has my vote as a fall must-read with a rating of four out of five.
Which fairy tale retelling do you think Ms. Hawkins should write about next? 
Preorder through Barnes and Noble, Amazon,or Chapters.
–Rika Ashton
(aka Self-Proclaimed Librarian of Oxenburg)
© All excerpts used in this post are property of Karen Hawkins, and may have been shortened to avoid spoilers.
September 18, 2014 | Categories: Book Reviews, Favourite Authors | Tags: 4 stars, alexsey, ARC, bronwyn, cinderella, fairy tale, funny, historical romance, karen hawkins, love, the prince who loved me, upcoming books | 2 Comments
---
---
---
---